Listen the Podcast
The week begins and we are back. 
In our last post, we talked the characteristics of ADHD in older adults, its impact on everyday life and its treatment alternatives. Join us today, as we tell about the most frequent co-occurring mental disorders in patients with ADHD.

As we pointed out in our previous episode, comorbidity is defined as the presence of a primary condition often coexisting with of one or more additional conditions.
In children, ADHD co-occur more commonly with oppositional defiant disorder, conduct disorder, depression and anxiety disorders, obsessive-compulsive disorders and autism spectrum disorders.
In adulthood, the most common coexisting disorders are different, for example, bipolar disorder, consumption of psychoactive substances, anxiety disorders, and personality disorders.

Therefore, a more detailed analysis of some of the characteristics of comorbidities is suggested. Let's start with depression.
Depression affects between 30 to 50% of people with ADHD. Researchers from the University of Chicago have found that adolescents with ADHD are 10 times more likely to develop depression than those without it.
Some studies suggest a family and genetic link between ADHD and depression. Depressed ADHD patients are less likely to respond to psychostimulant therapy. This is why, depression must be treated as a priority in ADHD patients.  
In the case of anxiety, it has been reported that 60% of people with ADHD, suffer from some kind of anxiety comorbidity, being social phobia the most frequent expression. The main feature of social phobia is an intense anxiety or fear of being negatively judged or rejected in a social scenario.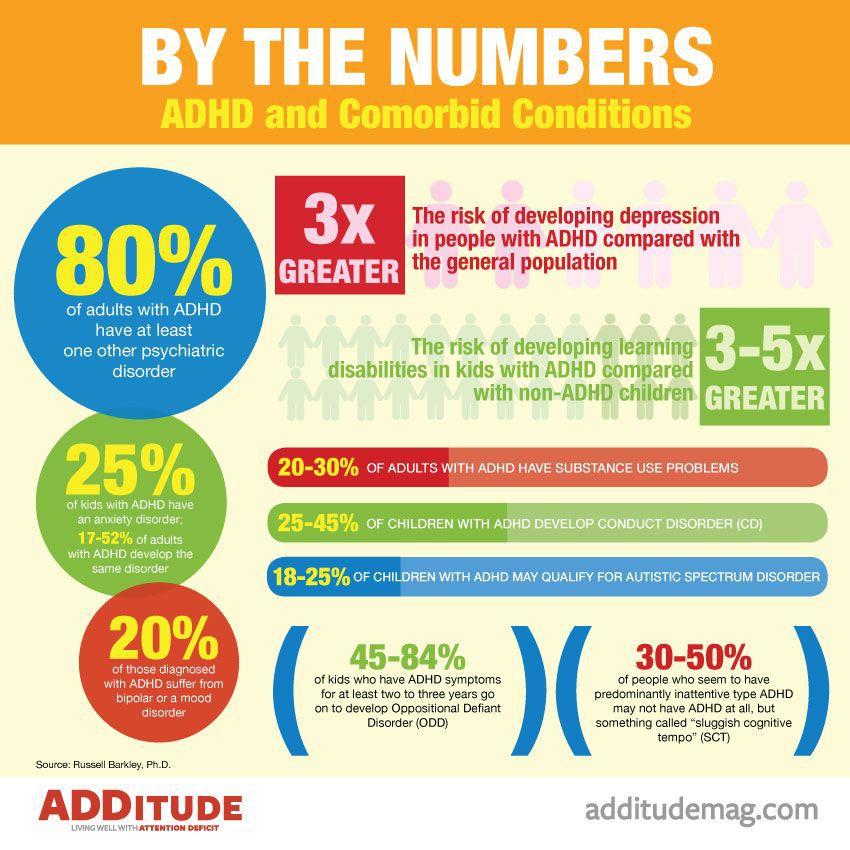 These anxious traits are more frequent in ADHD inattentive subtype patients. ADHD is a source of anxiety in the social, academic and professional contexts, and in organizational settings as well. ADHD patients can develop an excessive anxiety in any new situation, as they go through negative experiences.
However, when compared to children, adults with ADHD are more prone to exhibit eating disorders, as bulimia and binge eating disorder. Bulimia is an eating disorder characterized by indulgeing followed by purging. On the other hand, people with binge-eating disorders frequently consume unusually large amounts of food and feel unable to stop eating.
Apart from these two disorders, ADHD patients often have an uncontrolled eating rhythm. They find it hard to tolerate sitting at the table for a long period of time, and regard meals as a waste of time. These patients will prefer to snack several times during the day, often commercially prepared dishes to the detriment of good nutritional balance.
ADHD adults also complain of having difficulties to fall asleep, a poor quality of sleep, and the inability of staying awake during the day. They try to get engaged in activities that promote sleep. Additionally, they often wake up during the night interrupting their sleep when recalling tasks that were not fulfilled before going to bed.
And, though this may seem paradoxical, patients treated with psychostimulants, have a better subjective quality of sleep, and less night-time movements.
In addition, it is not uncommon for people with ADHD to also have a personality disorder, which is a type of mental condition in which there is a rigid and unhealthy pattern of thinking, functioning and behaving.
Sometimes ADHD shares many of its characteristics with personality disorders, then it is difficult to distinguish one from the other. So, Individuals with ADHD and dependent personality disorder, find difficult to initiate projects or carry out specific tasks by themselves. 
ADHD also share features with the antisocial personality, such as impulsivity and apparent indifference to the negative consequences of actions. Eventually, ADHD has some characteristics in common with the borderline personality, such as impulsivity, moodiness, and difficulty in controlling emotions.
It is also important to understand how substance use disorder is related to ADHD. So, this will be the topic of our next post.
If you would like to know more about other topics or content through our podcast series, feel free to contact us.